Our Clergy
Senior Rabbi Scott Rosenberg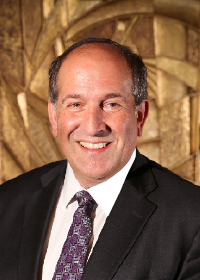 Rabbi Rosenberg brings with him 29 years of rabbinic leadership in three congregations, most recently, as Rabbi of Congregation Beth Shalom, in Ottawa, Canada. Prior to that, he was Rabbi at Temple Reyim in Newton, Massachusetts for 22 years. Rabbi Rosenberg received his B.A. from Columbia University and a B.A., M.A., Rabbinic Ordination and Doctor of Divinity from the Jewish Theological Seminary.
Rabbi Rosenberg and his wife, Amy Goldman, are blessed with three children; two sons and a daughter. Their sons live in the Washington, DC area and their daughter attends a university in Canada.
The Rosenberg/Goldman family is eager to meet all of our congregants, staff, students and children. If you would like to contact Rabbi Rosenberg for individual learning opportunities or to discuss personal needs, please contact him via the synagogue office at 610-667-5000 or at rsrosenberg@harziontemple.org.
Cantor Eliot I. Vogel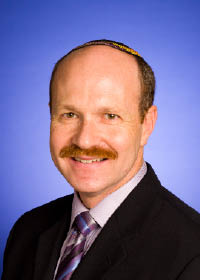 Hazzan Eliot I. Vogel came to Har Zion Temple in 1991 having previously served congregations in Connecticut and New Jersey.  His distinguished predecessor, Hazzan Isaac Wall, served Har Zion Temple for 46 years.  Growing up in Connecticut, Hazzan Vogel's roots were firmly planted in the Conservative movement through years of involvement in United Synagogue Youth and Camp Ramah. He is a graduate of Boston University (B.A. in music cum laude) and the Miller Cantorial School (formerly Cantors Institute) of the Jewish Theological Seminary of America where he was awarded the Putterman Prize for Hazzanic Excellence.
Hazzan Vogel has served on the faculties of both the Miller Cantorial School at JTS as well as at Gratz College.  He is an active member of the Cantors Assembly, serving both its national board and also as president of the Delaware Valley Region of the CA. He has served on the board of directors of Nashirah, the Jewish Chorale of Greater Philadelphia since its inception in 2005.
A lyric baritone, Hazzan Vogel has had a diverse array of performing experiences beyond the pulpit.  A former fellow of the Aspen Music Festival, Hazzan Vogel has appeared as soloist with both Jewish (Zamir Chorale of Boston, Zamir Chorale of New York, The National Jewish Chorale) and various non-Jewish choral groups performing symphonic works, oratorio and other sacred works.  He has presented premieres of dramatic and liturgical by Samuel Adler, Andrea Clearfield, Charles Davidson, Robert Ross and Hugo Weisgal.
Hazzan Vogel is married to Karen Vogel.  They have three daughters Alisa Fox (Chaim), Adina Vogel Ayalon (Yonatan), Davida and three grandchildren.
Rabbi Emeritus, Gerald I. Wolpe (z"l)
Reprinted from a resolution authored by Ralph S. Snyder, Past President, Har Zion Temple:
The Board of Directors and Trustees of Har Zion Temple are devastated by the death of one of its revered rabbis, Rabbi Emeritus Gerald I. Wolpe, who passed away on May 18, 2009.

WHEREAS Gerald I. Wolpe was born in Boston, Massachusetts in 1927; and

WHEREAS he was educated at Boston Latin in Boston, Massachusetts; and

WHEREAS he matriculated at The Jewish Theological Seminary in 1953; and

WHEREAS he entered military service of the United States of America in 1953 as a Chaplain in the United States Marine Corps; and

WHEREAS he completed his military service in 1955; and

WHEREAS he began his rabbinate in Charleston, South Carolina; and

WHEREAS he became the Rabbi of Temple Beth El in Harrisburg, Pennsylvania in 1955; and

WHEREAS he began his service to Har Zion Temple as Senior Rabbi in 1969; and

WHEREAS in the 30 years of his magnificent service to Har Zion Temple, he led the incredibly successful movement relocating its facility from 54th Street and Wynnefield Avenue in the City of Philadelphia, to Penn Valley, Pennsylvania; and

WHEREAS he effected a most dramatic change in the history of Har Zion Temple by converting it to a completely egalitarian synagogue; and

WHEREAS he became a most effective leader in the Greater Philadelphia Jewish community where he was accorded the respect to which he was so richly entitled; and

WHEREAS he was held in unbounded esteem by his colleagues of the Board of Rabbis of Greater Philadelphia; and

WHEREAS upon his retirement as Senior Rabbi of Har Zion Temple, he became Chairman of the Advisory Committee of the Bioethics Center at the University of Pennsylvania; and

WHEREAS he was named and thereafter acted as Director of the Louis Finkelstein Institute for Religion and Social Studies of The Jewish Theological Seminary, once again to demonstrate his outstanding leadership; and

WHEREAS the loss of this unbelievable man will be nearly impossible to replace; and

WHEREAS he repeated to his wife and to many of us, the wonderful words of the poet Robert Browning, "Grow old with me, the best is yet to be," and it was;

WHEREAS the Board of Directors and Trustees mourn the loss of a devoted, cherished and irreplaceable religious leader and wish to acknowledge permanently and publicly his contribution to this Congregation and to the entire community of Greater Philadelphia; and

NOW THEREFORE BE IT RESOLVED that this Congregation memorialize Rabbi Gerald I. Wolpe by dedicating itself to those standards which were the hallmark of his life; and

That this Resolution be adopted by the Board of Directors and Trustees of Har Zion Temple; and that this congregation express its heartfelt sympathy to his beloved wife, Elaine, and to his children and grandchildren to whom a copy of this resolution be transmitted.
Cantor Emeritus, Isaac I. Wall
Immigrating from Russia to Denver, Colorado at the age of three, Cantor Isaac I. Wall began his Jewish religious training under the guidance and inspiration of his father, a very scholarly and pious man. Cantor Wall had already shown a talent for Hazzanut by the age of nine, when he moved with his family to New York. There, he studied the Talmud and liturgy, as well as voice with some of the great cantors of the day. By the age of 13 Cantor Wall was leading services, davening as Hazzan for the High Holidays in Hartford, Connecticut where the Governor of the state, as well as other dignitaries, came to hear "the wonderchild with the beautiful voice". After serving for several years as Cantor in a number of New York synagogues, he took a position in Houston, Texas, where he traveled the state conducting services for the armed forces during World War II. In 1944 he became Cantor of Har Zion Temple and served for 47 years until his retirement in 1991. He now serves as Cantor Emeritus. Cantor Wall is a founder and past President of the Cantors' Assembly. He is a fellow of the Cantors' Institute, honored for his many years of service to the Conservative Movement. He taught for 20 years at the Solomon Schechter Day School (now the Perelman Jewish Day School), which he helped to found, and continues to serve on the organization's board. Cantor Wall and his late wife, Sheva, were blessed with three children and 13 grandchildren. Cantor Wall currently lives in Ventnor City, New Jersey.